6
minutes read
Nurses are often on their feet for extended periods of time, for long shifts that can span over 12 hours.

This can, unsurprisingly, led to aches and pains, with the feet and legs bearing the brunt of endless steps and hours spent standing.
The constant traversing of hospital corridors, moving between patient rooms and the nurse's station, and collecting clean linen and medical equipment, with notoriously hard surfaces under foot, can result in legs and feet that ache and swell.

A tired heaviness felt in the legs, shoes that become increasingly more snug, and impressions left on the calves where the tops of average socks have tightened all indicate swollen legs and feet.

This is where compression socks for nurses offer much needed respite.

But before we discuss the therapeutic benefits of medical-grade socks, let's look at why nurses are at risk of leg pain, swelling and fatigue…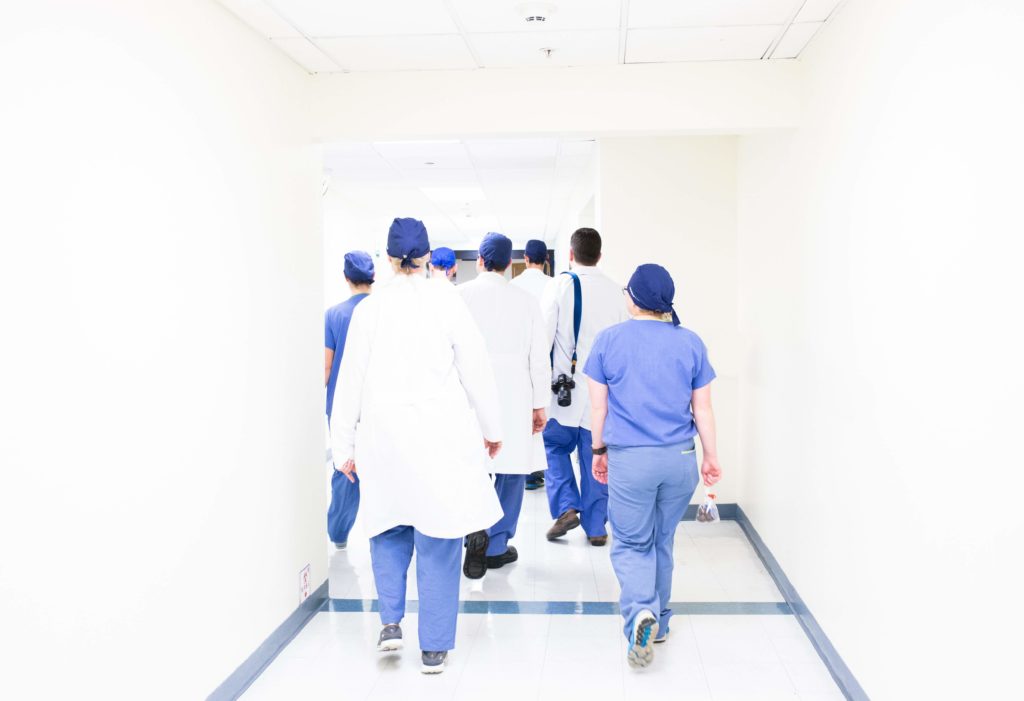 Why are nurses at risk of leg pain, swelling and fatigue?
There are a number of important reasons that nurses, and potentially doctors, face an increased risk of lower limb problems.

According to the government site, Better Health Australia, fluid retention can be caused by a range of challenges regularly faced by healthcare professionals…

Standing for extended periods enables fluid to accumulate in the lower legs. Gravity works against its proximal return to central circulation.

Nutritional deficiencies, including protein and vitamin B1 can result in swelling, a suboptimal magnesium level can increase pain, insufficient iron contributes to fatigue and lower leg pain and cramping.

While better than their fellow country men and women, only 8% of nurses meet the recommended daily intake for vegetable and fruit raising the probability of nutritional deficiency.

Nine out of every ten Aussie nurses are female, adding additional complexity. For some women, the menstrual cycle can increase oedema in the luteal, or post-ovulatory, fortnight.

Oestrogen-containing oral contraceptive pills can also prompt fluid retention.

Chronic venous insufficiency (CVI), where weakened valves in the veins of the legs means greater difficulty in returning blood to the heart, increases the risk of pooled blood and swollen legs.

CVI is more common in women who are obese. A 2018 study showed that 61% of Australian nurses were overweight or obese, with 29.7% falling into the latter category.
Two in every five Australian nurses are also over 50 years of age, increasing the possibility of taking certain medications known to increase fluid retention, including high blood pressure medication and non-steroidal anti-inflammatory drugs (NSAIDs).

Not to mention that while the average Aussie walks only 3.2 kilometres per day, the average nurse covers 6.5 to 8 km per 12-hour shift!

It's little wonder so many of our indispensable Australian nurses suffer. Yet compression socks for nurses can take the pressure off and provide much needed relief.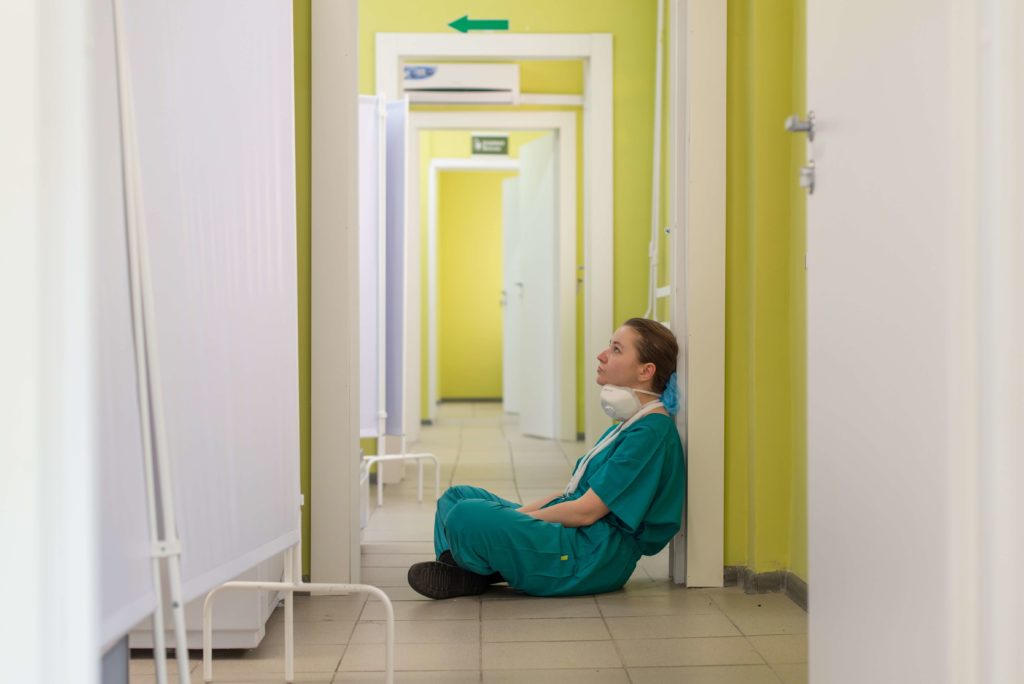 What are compression socks for nurses?
Compression socks are, as the name suggests, hosiery that applies gentle pressure to the legs.

Premium quality compression socks are designed to aid return of blood to the heart, reduce back flow through weak valves in the veins, and may reduce muscle swelling and inflammation.

We believe this makes them an important part of a nursing uniform.

The best compression socks for nurses should offer a choice of compression level, size and style to suit, be hard wearing for every day use and, of course, feel comfortable and look great under clothing. Ours do.

If oedema or chronic venous insufficiency are a problem, a pair of graduated compression socks or stockings is the ideal choice.

As researchers Chung Sim Lim and Alun H. Davies noted, while being designed for people who are ambulatory, which nurses very much are, graduated compression sock "exert the greatest degree of compression at the ankle, and the level of compression gradually decreases up the garment."

Because the aim of medical hosiery is compression, a snug fit is essential. Make sure to purchase your compression socks from a supplier who provides a size guide to ensure fit, in addition to an exchange guarantee.


What are the benefits of wearing compression socks for nurses?
As we've mentioned, compression socks aid in the flow of blood from the lower limbs back to the heart, reducing pooling within the legs and feet. But the research shows the benefits are broader than this important advantage alone…

In the randomised controlled study, Compression socks and functional recovery following marathon running, the use of knee high compression socks showed speedier recovery after exertion. For nurses who return to duty day after day, this is an important benefit.
A further study titled, Wearing compression socks during exercise aids subsequent performance, found that wearing compression socks positively impacts on physical performance.

The combined benefits of enhanced physical performance and faster recovery are significant for well worn legs! Then there are the benefits of improved symptom management; alleviation of pain, reduction in leg and foot swelling, and respite from fatigue.

Compression socks for nurses Australia: Our top picks
At Bodyment, we've been supporting Aussie nurses for a decade. We see you and appreciate your long hours and hard work! Here are three choices our nursing customers tell us they adore…

Sigvaris Cotton Knee High Socks

Sigvaris Cotton Knee High Socks contain a high cotton content so they are easy to pull on and remain cool and comfortable as you rack up the kilometres at work. Ideal for people with sensitive skin, they are latex free, graduated and perfect for both women and men.

Sigvaris Thigh High Cotton

There is a reason why Sigvaris's Thigh High Cotton are one of our bestsellers: they are comfort and relief personified!

With two choices of compression, medium and firm, two colour options, beige or black, two leg lengths, long or normal, and an open or closed toe design, these durable, graduated compression stockings are unisex and endlessly wearable.

JOBST® Ultrasheer Pantyhose 15-20mmHg Compression Stocking

If you prefer compression stockings to socks, JOBST® Ultrasheer Pantyhose provide medical grade graduated compression that assists healthy blood flow in the legs.

Designed to reduce the risk of varicose veins and prevent swollen, tired and aching legs, they are suitable for long shifts and every day wear.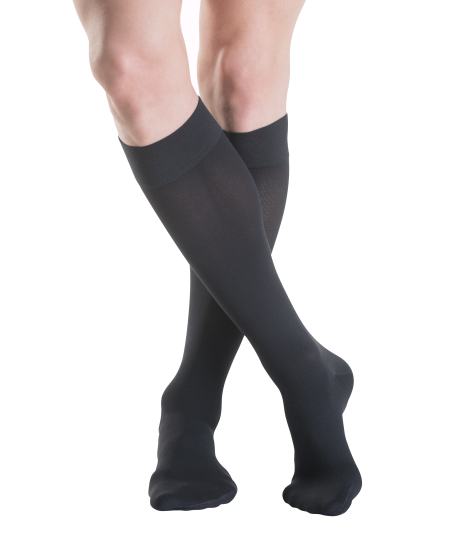 Caring for your nursing legs
Tending to patients can be physically and psychologically exhausting.

While caring for your wellbeing is multifaceted, compression socks for nurses can ease the tiredness, swelling and discomfort felt in your feet and legs. As can these simple practices…

Follow a healthy diet. Develop and maintain a stretching practice before and after your shift.

Massage your legs regularly; research showed that self-administered leg massage five times per week reduced lower extremity pain and oedema in nurses.

Last but not least, get sufficient rest. You deserve to be cared for, too.