7
minutes read
We often get asked the question: "Do I need a Stage 1 or a Stage 2 compression garment?"

Bodyment Australia has the complete industry breakdown. Pioneers on medical Stage 1 & Stage 2 Compression
What is the difference between a Stage 1 and a Stage 2 compression garment?
Bodyment has unrivalled industry experience in Medical Compression and Shape wear Compression.

Bodyment Australia – Frequently asked questions
Confused as to why you should wear compression garments at all?
Stage 1 or Stage 2 compression garments can be confusing and sometimes misunderstood.
In order to answer the first question of which compression stage to buy, you need to understand why wearing surgical grade compression garments is always professionally recommended after a procedure. And what does a compression garment really do?
No matter what type of surgical procedure you have, oedema (swelling) is likely to occur. After any surgery, the chances are that swelling will follow.
While perfectly normal, post-op swelling can initially obscure results after the most expertly performed plastic surgery. So, don't panic if your results aren't exactly as you expected at first.

Aboutanos Plastic Surgery
"Edema" is the medical term for swelling. Body parts swell from injury or inflammation. It can affect a small area or the entire body.

WebMD.com – by James Beckerman, MD, FACC
This is simply because whenever there is "trauma" to the body, in this case as a result of a surgery, the body sends more blood flowing to the site to promote healing.
Why is medical compression important for post operative results?
Increased blood pumping to the area means more fluid building up in the surrounding tissue.
Another reason why the body can swell after a surgical procedure, is the increased fluids added to the body during general anaesthesia.
A surgical grade compression garment helps control the swelling by reducing the amount of fluid build-up in the surrounding area and helping the increased fluid to drain out of the body via the lymphatic system.

Bodyment Australia – Stage 1 Medical Compression Garment Industry Term
Trauma to the body also results in bruising. Blood capillaries can get damaged during the procedure and cause small amounts of blood to be trapped just under the skin.
By compressing the area, the surgical garment helps push this blood out of the body through the lymphatic system.
Surgical incisions can turn into raised, lumpy and sometimes discoloured scars. By adding compression to the incision, the surgical grade garment can help flatten the scar and prevent lumps from forming.
While your compression garment aids with keep incisions flat during the initial weeks of recovery, longer term benefits are achieved by using scar therapy. Our BodySil ScarTape and BodySil Silicone Scar Gel should be used once your wounds have healed. These scar treatments can even achieve excellent results on old scars.
Our increasingly popular BodyAid garments provide targeted compression where it is needed most after surgery, and world leading Marena garments are made from anti-bacterial fabric that helps prevent infection and keeps the garment (and you) fresher for longer.
What stage medical garment is best for me, Stage 1 or Stage 2?
Stage 1 – What you need to know
Stage 1 – Body Garments
Body garments are designed for ease of wear post surgery. They have ample hook and eye and zip closure so there's no need to struggle by pulling them up your body.
All Stage 1 body garments have an open or opening crotch eliminating the need for pulling up and down when using the bathroom.
Stage 1 – Post Surgery Bras
All Stage 1 surgical bras should be front fastening as raising your arms after surgery is not only painful, but could cause sub-surface stitches damage.
When we talk about Stage 1 bras, we really are referring to compression bras.
There are those in the medical field that prefer their patients to wear a compression bra post surgery and there are those that prefer a soft, comfy bra instead.
Take a look at our blog post for further great info on bras What post surgical bra should I buy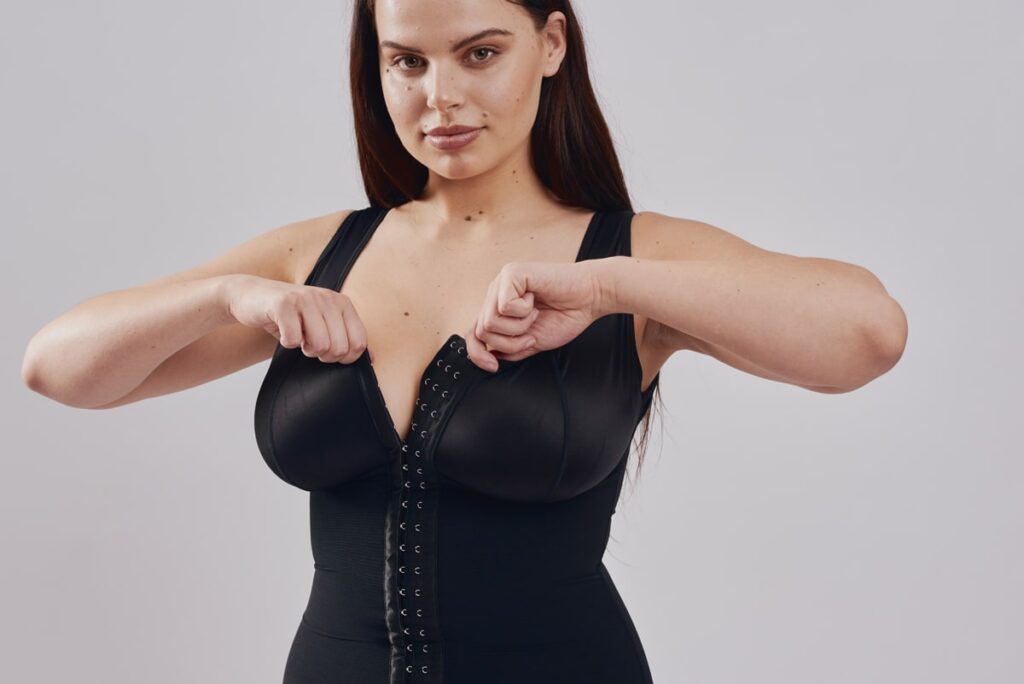 Stage 2 – What you need to know
Stage 2 Body compression garments do not usually have any zips or hooks and eyes.
They may, or may not have an open or opening crotch. When purchasing your garments prior to your procedure, we strongly recommend having a chat with our professional fitters via our chat service, to ensure you buy the right size for after your surgery.
With decades of experience in fitting patients, we understand what will happen to your body in theatre, and will provide the right sized garment for you based on the measurements you provide.
Stage 1 and Stage 2 garments offer similar amounts of compression in the fabric itself.
Stage 2 – Body Compression Garments
Therefore, if after the first few weeks post surgery, you would like a tighter garment, then we recommend purchasing a product that you can continue to wear long term and get better value for money.
Our Stage 2 garments are ideal to wear every day and produce a smooth finish under clothes. They are great to wear as shape wear or even for exercise. FAJA compression garments, is a term used internationally to describe Stage 1 & 2 garments that can be worn either for Post Surgical compression or Body Shapewear.
For minor Liposuction procedures, a Stage 2 garment can often be a great solution and will ensure better and more even skin retraction.
We have garments from Leonisa and Marena that look great as well as providing medical grade compression. Our most popular BodyAid garments created on decades of experience and research.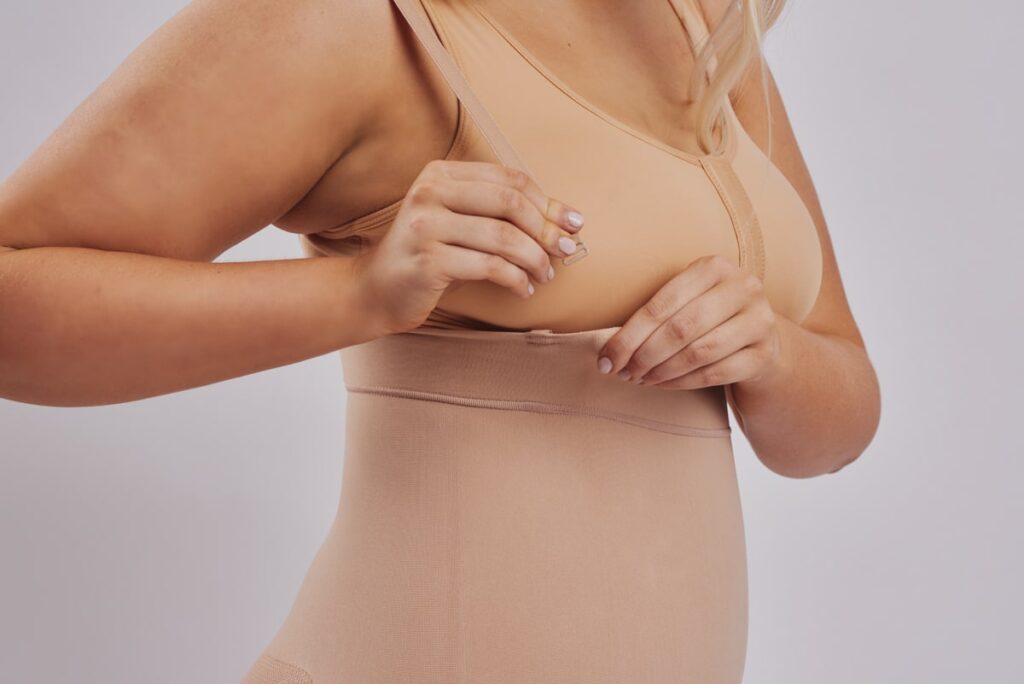 Stage 2 – Bras
Stage 2 bras are generally non-compressive and can be worn either after surgery or everyday for long periods. Bodyment has an extensive range of these non-underwire bras, many of which are front fastening.
Stage 3 – What you need to know
Compression garments that have no zips or hooks and eye closures and no open or opening crotch, can be referred to as Stage 3 or activewear garments.
No need to hide these garments under clothing – they look great on their own and can really help improve performance and recovery during exercise.
Shop Stage 3 Now

What is a FAJA compression garment?
We are hearing a lot these days about FAJA garments. Meaning girdle in Spanish, a FAJA garment can be worn post surgery (with zip or hook and eye closure and an open or opening crotch), as shapewear or activewear.
Coined in Columbia, one of the world's Plastic and Cosmetic Surgery hubs, a FAJA garment can contour the body and hide many lumps and bumps resulting in an hourglass or coke bottle figure. Waist cinchers are a big part of the FAJA shapewear scene.
Do I need a FAJA garment after surgery?
The simple answer is yes – either a FAJA or Stage 1 surgical compression garment is appropriate for directly following a procedure. Not all FAJA garments are designed specifically for after surgery wear. Bodyment Stage 1 garments can be worn as FAJA shape wear but are designed with post-op comfort and recovery first and foremost.
Is a FAJA garment just shape wear?
A FAJA garment can be worn as shape wear to assist in contouring the body. However, FAJA garments can be worn as Stage 1 and also as Stage 3 activewear.
Can I wear FAJA Stage 1 or Stage 2 garments safely?
Bodyment always recommends checking with your health professional before wearing any form of compression garment.