3
minutes read
Congratulations! You now have a bundle of joy to cherish and support. Love your post baby body with our amazing post pregnancy shapewear.
How do I get my pre-pregnancy body back?
Nine months of nurturing and allowing your baby to develop and grow has clearly taken a toll on your body. Bodyment's Guide to Postpartum Compression Garments will provide some answers and point you in the right direction when choosing compression garments.
Increased hormones, extra blood flow, water retention, skin stretching and muscle separation all participate in making it difficult to get your post baby bump to disappear. Pregnancy is a wonderful thing. But your tummy may not look like it did nine months ago. We got you!
You have navigated through your pregnancy wearing graduated compression stockings for your varicose veins and maternity shorts or leggings to provide support for your belly. But what garments are available and offer the support needed postpartum to get your body back to pre-baby shape.
What's the Best Post Pregnancy Medical Compression Garment?
Bodyment has done the hard work for you and has some great garments from the best compression garment manufacturers. As dedicated Surgical Compression Garment manufacturers, Marena fabric is anti-microbial, breathable and claimable from Private Health Insurance. Their Active range of sports garments are all made from that same surgical grade anti-bacterial fabric. Great looking and super comfy, these high waisted shorts will help with muscle and skin retraction, while looking great either on their own or under clothing. With no zips or hooks and eyes, these shorts and the Leonisa high waisted leggings provide targeted compression over the entire abdomen plus gentle compression over the hips and thighs.
We have an excellent value Post Partum Recovery Bundle which includes the Leonisa High Waist Adjustable Panty. This innovative compression garment allows you to control the amount of compression over the entire abdomen with easy to use velcro wraps. This panty is also available in a regular waist style.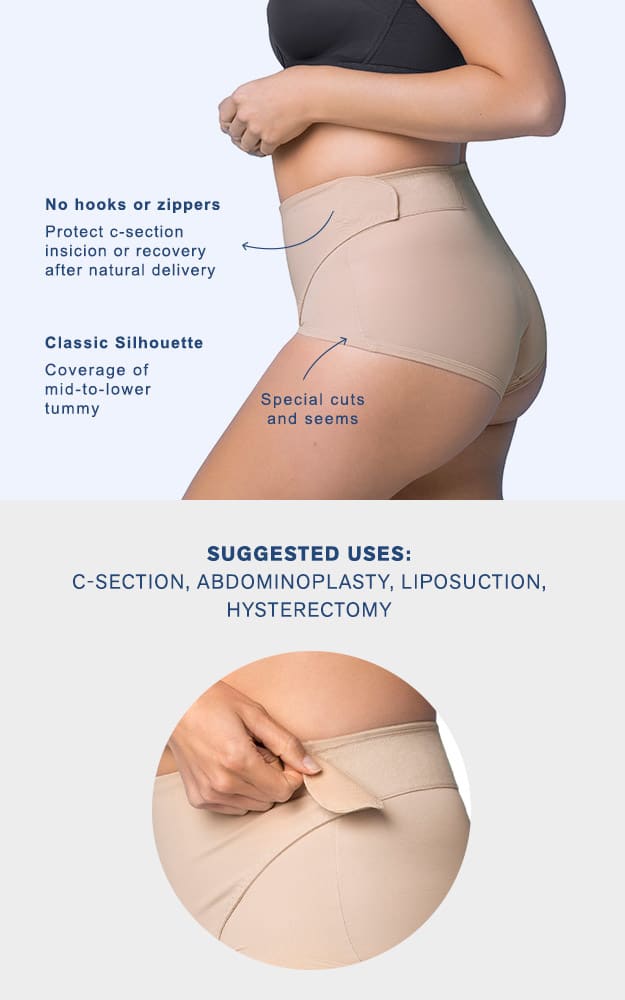 Bodyment also sells SRC Recovery and Surgiheal shorts which are also a great choice even though they are more expensive. This brand is well known for it's Maternity and Postpartum wear and if you are happy to pay the price, then you can be confident of the quality. SRC has recently introduced high waist leggings to their range.
When do I wear Postpartum Shapewear?
All these garments can be worn after natural and caesarian births, however you might prefer a compression garment that can be worn under clothes with an opening crotch for ease of wear in the first months after baby is born. All our Marena, Leonisa and BodyAid bodysuits and high waist girdles provide surgical grade compression over the abdomen, but have zips and hooks and eyes and an open or opening crotch depending on the style chosen.
Marena, the world's leading Surgical Compression Garment manufacturer has introduced their own postpartum range. Bodyment will be bringing these to you soon, so please check back soon for some exciting new products.
Please always check with your Health Professional to see if postpartum compression is right for you.