7
minutes read
Do you need stage 1, 2, 3 or 4 Compression Wear ? Here's how to tell…
As compression wear experts, there are two questions we are often asked: "What is the difference between each compression stage?" and "What do I need?" Let's answer these for you.
Compression wear is divided into stages to enable the right fit at the perfect time. The benefit is tailored health and healing.

But, unless you are an expert, making the right choice can feel confusing, even overwhelming.
By understanding the phases of healing we can demystify any confusion.

Then, to answer, "What do I need?", we must respond to the first question, "What is the difference between each compression stage?" Let's take a look…
Stage 1: Post-Surgical Stage
During surgery, tissue is cut. As with any wound, the body responds rapidly to protect and clean the affected area.

Blood, healing cells and natural chemicals migrate to the site. We experience this as swelling. If blood is trapped under the skin, bruising can also result.
This process is essential for healthy healing. However, excess swelling, bruising or fluid loss can cause pain and interfere with recovery.

That's why post-surgical compression wear is recommended.
Specially designed compression garments press gently on the tissue to minimise swelling and bruising, diminish harmful effects, calm pain, and aid in incision repair.

By applying medical compression over an incision, a wound can be flattened and protected, preventing a lumpy, unattractive scar from forming.

In addition, our Marena garments are crafted from an anti-bacterial fabric that helps to prevent infection and keeps the garment (and you) fresher, for longer.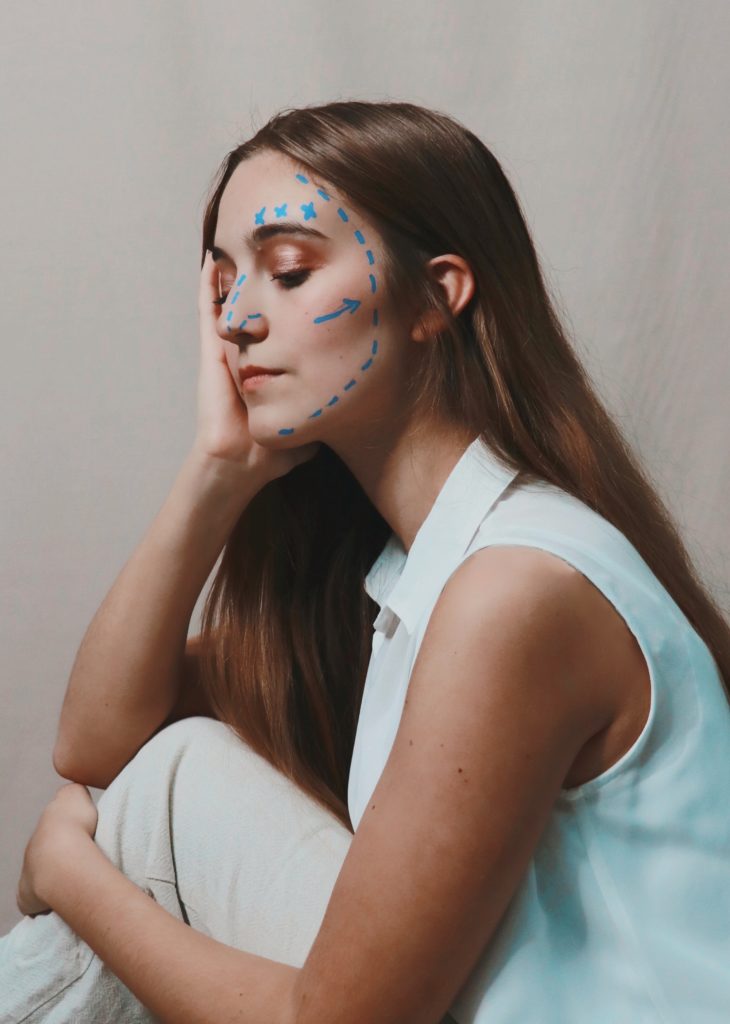 Stage 1 compression wear is recommended for approximately four weeks.
Designed for ease of post-surgical wear and comfort!
Our stage 1 compression wear can be worn immediately post-surgery.

Each piece is designed for ease of use, comfort and results. Because we believe no-one should have to fumble or hurt in order to recover well!

With ample hooks and eyes, and zip closures, each garment can be pulled into place, struggle-free.
Body garments
Stage 1 body garments have been crafted for constant use. They possess an open or opening crotch to ensure easy bathroom access.

They are appropriate for wear during both wakefulness and sleep. They provide support that can lessen pain and encourage suitable movement.
Our Leonisa Double Take Open Bust Firm Compression Post-Surgical Body Shaper is the perfect example of stage one compression wear.

By providing medical grade compression, this garment improves blood circulation and minimises post-surgical swelling. It is breathable, comfy, and ideal for constant wear.
Bras
Following a breast procedure, a compression bra will likely be recommended. All surgical bras should fasten at the front to avoid unnecessary movement that could damage sutures and incision healing.
Want to know more? Our article, What post surgical bra should I buy?, will answer your questions.
Our Leonisa Contoured Posture Bra is an example of a stage one bra, with its adjustable front hooks and eyes, wide adjustable shoulder straps, and underwire-free design. It matches pretty with support, form with function.
Bodyment tip: While stage one offers the top level of compression, we have many clients who are not post-surgical and choose this style of bra simply because they adore the softness, support and comfort!

If you've been looking for a bra that rocks, check out our range here.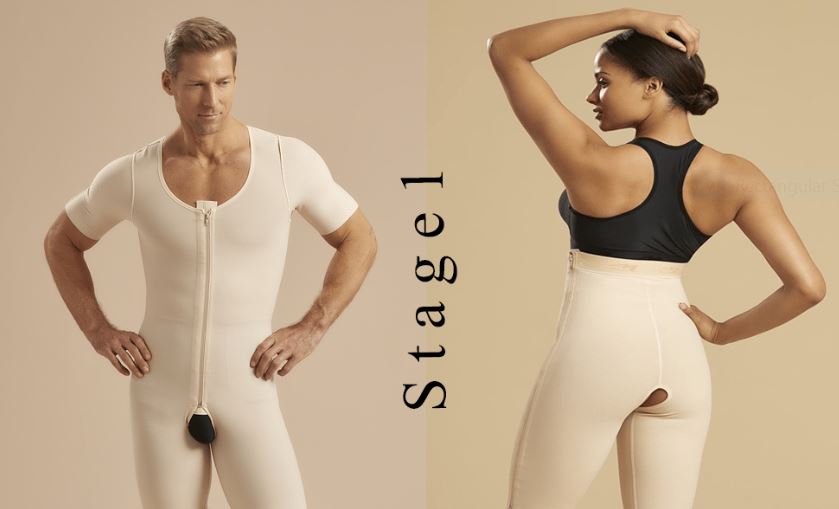 Stage 2: Second Post-Surgical Stage
After approximately four weeks, swelling subsides and the wound reaches a more advanced stage of its healing. This results in reduced size and the need for a new garment.
Stage 2 compression wear is ideal for everyday use. These pieces do not usually have hooks and eyes, or zips, and may or may not have an open or opening crotch.
Long term benefits of stage 2 compression

Stage 1 and 2 compression wear offers a similar amount of compression in the fabric itself.
After the first four weeks post-surgery, when you need a snugger fitting garment, we recommend purchasing a product that you can continue to wear long-term.
It'll support your body and provide better value for money. You can see the difference between stage one and stage two compression wear in our Marena Power Singlet.
Designed to support the chest, abdomen and back, it combines surgical-grade compression with every day comfort.
This vest provides sustained compression over the chest, , stomach and back to improve muscle control, stimulate the lymphatic system, and reduce soreness. The anti-microbial fabric provides extra confidence.
Our leading brands like Leonisa and Marena are scientifically designed to provide stage one and two compression. They're also made to look and feel great!
Stage one and two: Achieving the ideal post-surgical fit
When purchasing your post-surgical garments, we strongly recommend speaking to one of our professional fitters either by phone or via our online support specialist.

We will guide you to the right size and perfect fit. With years of experience fitting patients, we understand what will happen to your body in theatre and what your needs will be afterward.

We'll provide the ideal garment based on the measurements you provide.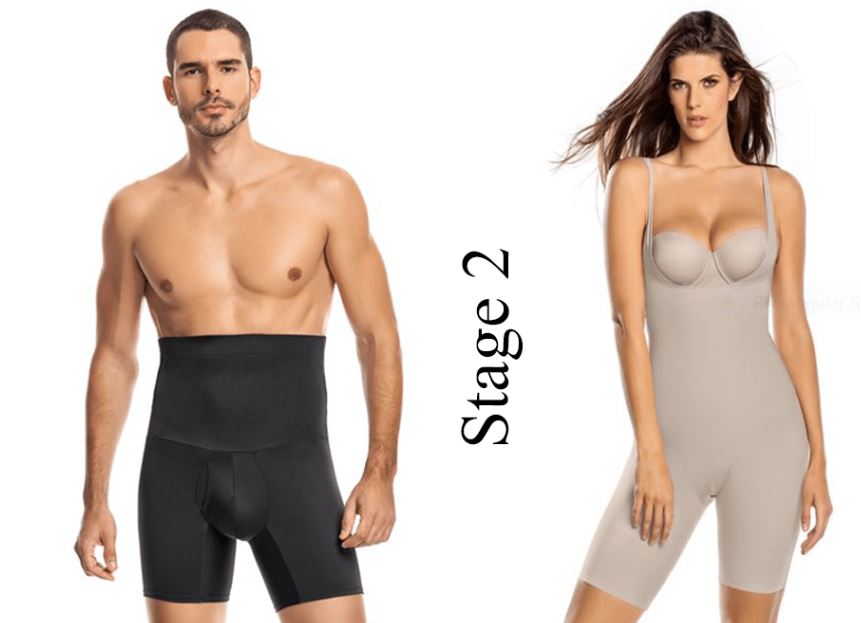 Stage 3: Compression Activewear
Compression activewear enhances athletic performance and endurance, and reduces recovery time.

By promoting blood flow and supporting the muscles and tissues, you'll also notice a reduction in delayed onset muscle soreness.

The result is peak performance in attractive comfort.
Compression activewear supports your body, enhances physical performance and provides support when and where you need it most!
Three of our best-loved compression activewear products include…
Our Marena Pull On Sports Bra, which features a racer-back design with the most supportive patented compression fabric.

Instead of being constricted by an underwire and restrictive fabric, this pull on sports bra supports and reduces vibration during high-impact athletic activities.
Our bestselling Leonisa Tummy Control High Waist Leggings, which flatters the figure and firmly compresses and sculpts the entire abdomen and lower back.

The PowerSlim fabric and no-roll waistband mean no uncomfortable boning and non-slip perfection.
Our Marena Active Compression Recovery Shorts, which, as well as being suitable following hernia surgery, make the perfect exercise partner.

Their targeted design enhances athletic performance and helps to clear lactic acid from the legs. They will continue to provide sustained compression after thousands of washes!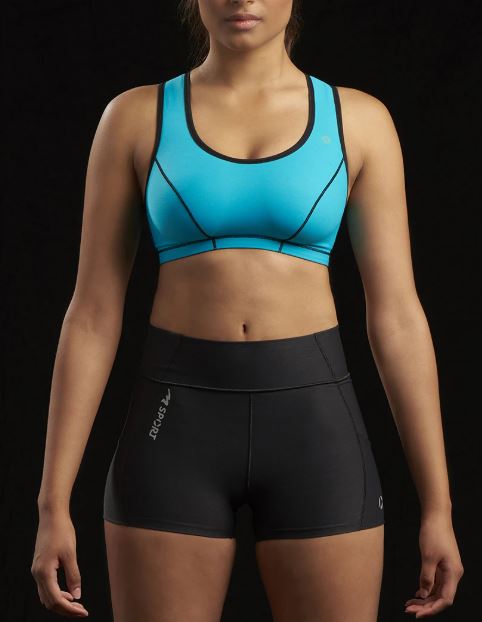 Stage 4: Compression Comfort Wear
Comfort wear looks and feels great! Because it is not designed to provide surgical-grade compression, it comes eye and hook free.

Instead, comfort wear offers light compression that smooths crinkles and creases, imparts lift and eliminates unsightly lines that can show through clothing.
One of our most popular pieces of comfort wear is our gorgeous Leonisa Truly Undetectable Panty, which buoys the bottom and reduces the appearance of cellulite on the butt and hips.

Ready to feel the confidence perfect lines bring? Grab your truly undetectable panty now!
Need help to choose the ideal stage and your perfect piece?
At Bodyment, we are a client-centric company. Our mantra is also our practical philosophy: Love your Body, we take care of the rest.

Our mission is to provide our clients with premium compression products that encourage and support recovery, as prescribed by your health professional.

If you have a question, check out our FAQs.
Still have a question about a product or wish to share general feedback? Let us know.
Need rapid support? Chat with us online.

All tickets will be responded to within 24 hours.