5
minutes read
6 Simple Tips for the Perfect Post Operative Bra Fitting
After your breast surgery, you might be feeling overwhelmed about what comes next. Finding the right post-operative bra can be a daunting but necessary experience for optimal recovery. 
Kickstart your journey ahead with Bodyment's complete guide on choosing the best bra type and size for your recovery needs.
 Having the right fit can significantly change the way you feel, move and look!
Bodyment has fitted numerous post-operative bras and compression garments for over 10 years! Especially during the first 6 weeks post-surgically, we continuously hear about how sore the breasts can feel and the importance of wearing the perfect fitting post-operative bra. 
One of the most crucial things to do is finding a comfortable, and well-fitting post operative bra at least 2 weeks before your surgery in preparation for you recovery.   Accurate bra fitting is vital for achieving the best possible results from your surgery.  Although it can be confusing initially, we have 6 simple tips to help you find the best sizing selection.
1.

   
Surgeon Preference
Depending on the type of surgery and the incision, you may require specific post operative bra features or levels of support. It's essential that you ask your surgeon's preferences for you.
Most surgeons will be able to guide you through what you need to look out for and any specifications. Generally, we tend to recommend that you at least select a front-fastening bra for ease of wear (especially during medical examinations). 
 
2
.

    
Find out your dimensions (you will also need step 3)
It's not just you. Please be reassured that many people do not know how bra sizing works!
For most surgical-grade bras, the only 2 measurements that you need is the under-bust and bust circumference. All you'll need is:
1.    A measuring tape
2.    Someone else to measure for you OR a mirror
To measure the bust, wrap the measuring tape along the fullest part of your breasts (typically along the nipple line).The under-bust is much more straightforward. While wearing your current bra, simply measure around the bottom band of where it sits.
Once you have your measurements, our consultants will be able to determine the optimal fit for you. Alternatively, you can use the "Size Charts" at the bottom of our product description to find out for yourself.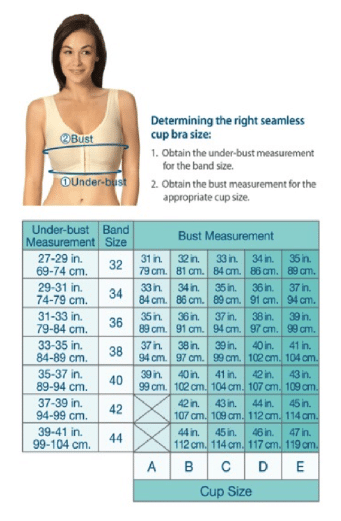 3
.

    
Account for Swelling and Post-Surgical Changes
It is entirely normal to experience at least some form of swelling after surgery. So we will recommend that you choose a larger band cup size than the fit that you measured in step 2. This is especially the case if you're on the larger end of the band.
Take our popular Marena surgical compression bras, for example. As a front-fastening bra with three rows of hooks and eyes, they offer unrivalled support for post-operative wear. To maximise support and padding, the Marena post-operative fitting bra will often be slightly smaller cup size than advertised.
For example, if you've used the 'size charts' to measure yourself at 38C, we recommend that you actually select 38D. You will feel much more snug without being constricted or irritable.
4
.

    
Fitting your Post-Operative Bra the Right Way
It might seem like common sense, but we've seen some weird and wacky ways people wear their bras.
When wearing your post-operative bra, pop your arms through the openings and secure the strap around your back. By following this specific order, you will find it easier to adjust your front attachments.
Once secured, you can begin to readjust from the bottom of the post-operative bra and then proceed upwards. There are 3 major areas to look out for when finding the perfect fit.
1.    Under-band: The band should sit quite low and flat against the rib-cage to prevent it from moving upwards.
2.    Cups: Mold the cups around as much of your breast as supportive. The more coverage, the less irritation and discomfort you will feel.
3.    Shoulder straps: Align your straps over your shoulders until your bust is cosy.
5
.
 Purchase at Least 2 Post-Operative Bras for Alternating Use
Our BodyAid range has been specifically designed to cater for your post-operative needs. Featuring extra support, adjustability and comfort,  they are perfect for all shapes and sizes. 
We recommend alternating between your post-operative bras for 6 weeks, to ensure maximal comfort and to achieve the best results from your surgery. Bodyment suggests pre-purchasing your bras at least 2 week before your surgery to avoid missing out!
To keep your post-operative fitting bra hygienic, you may consider choosing at least two garments for alternate use. Make sure that you're following the washing instructions on the label to maintain its condition.
6. Scar Management
One of the most common problems that you may encounter is scarring from your wound. No matter how well-fitted your post-operative bra is, you may continue to feel discomfort around your scar area. Especially during the first two weeks, your scar will be inflamed and sensitive.
BodySil is our clinically tested range of silicone scar treatments that have been proven to improve the appearance of scars. Silicone-based products, such as the BodySil scar treatments accelerate scar fading so you can regain your confidence. Two of our most popular and effective scar treatments are the BodySil Scar Tape and BodySil Scar Gel.
Choosing the perfect fitting operative bra doesn't have to be complicated at all! By following our 6 simple steps, you will be able to breeze through your recovery.
You can start your journey today by wearing the premium Bodyaid range. BodyAid is our range of compression garments inspired by the best features of our top selling items, offering the highest quality scientifically backed medical compression garments.
Currently available in our top selling BodyAid range are the Post-Surgery Bra, Stabilizer Bra, and Stabilizer Band – super comfy and incredibly supportive.
Accurate sizing is vital for achieving the best possible results. Our Bodyment support specialists are available to recommend the best bra type and size for your recovery needs, contact us now.