9
minutes read
Graphic Content
This post contains medical procedure images where the content focuses on open wounds. Some people may find this shocking or upsetting and should not continue reading.
Could abdominoplasty be the answer you're looking for? Tummy tuck surgery the solution you need?
Have you lost a great deal of weight and gained ample drooping skin? Given birth to a precious bubba, but pregnancy resulted in separated abdominal muscles and a flabby tummy? Or have you noticed that age-associated changes have delivered a midriff you'd rather hide?
Saggy skin and weakened core muscles can steal your self-esteem and quality of life. It can also cause back pain, constipation and stress urinary incontinence. Wonderfully, abdominoplasty — commonly called tummy tuck surgery — can remove excess skin, reverse an abdominal apron and restore a body you can be proud of.
If you are considering a tummy tuck there are important aspects you need to know. By understanding the surgical basics, how to plan and aid your recovery, and the medical products like an abdominal binder worn after tummy tuck surgery that will diminish swelling and minimise tummy tuck scars you are in a great position to heal well and adore your brand new body!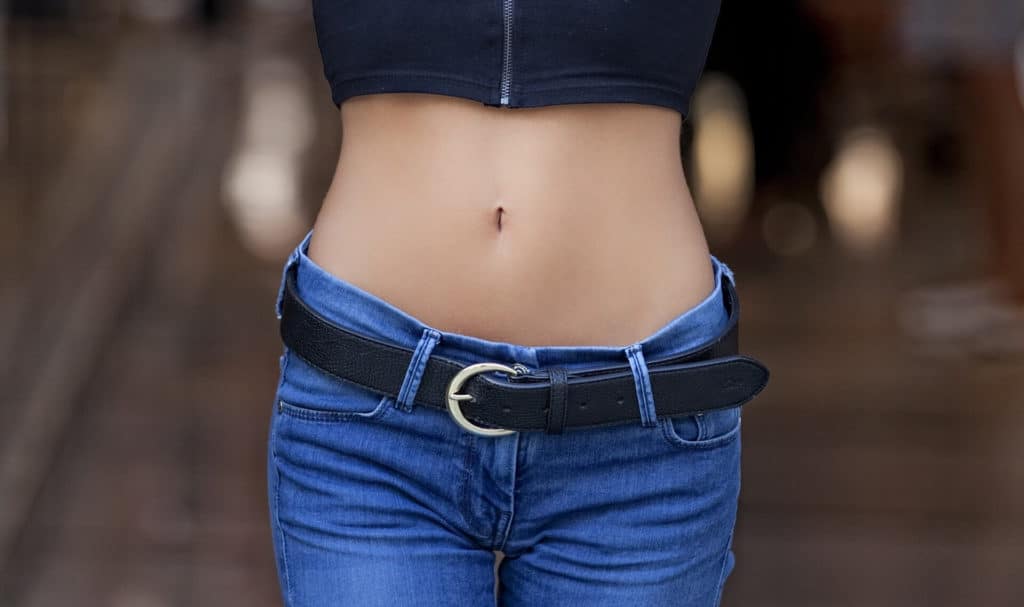 What is Abdominoplasty?
The word itself gives us a clue. Abdomino refers to the abdominal area, plasty to a surgical intervention that repairs, restores, reshapes or replaces. So abdominoplasty literally means to mend and mould the abdomen, including its muscle and skin.
There are different types of abdominoplasty procedures: the traditional tummy tuck, mini tuck, Fleur de Lis and circumferential body lift. As you'd expect, the tummy tuck surgery of choice depends on a person's needs.
Traditional Tummy Tuck
Traditional, or full, tummy tuck surgery is designed to flatten the abdominal area above and below the navel. It is suitable for those with weakened core muscles and excess, saggy skin. This makes it an ideal option for those who need a tummy tuck after weight loss or a tummy tuck revision after pregnancy.
During this operation, a horizontal incision is made from near the top of the pelvis on one side to the top of the pelvis on the other side. This single cut is generally placed just above the pubic area so the scar can be hidden below underwear. The entry point allows the surgeon to correct weak tummy muscles and remove excess skin. Liposuction can be performed to remove fat from below the skin for a flatter look. An incision is also made around the belly button so it can be saved. Once the abdominal contours look ideal, the belly button is repositioned and the incision is carefully sewn up.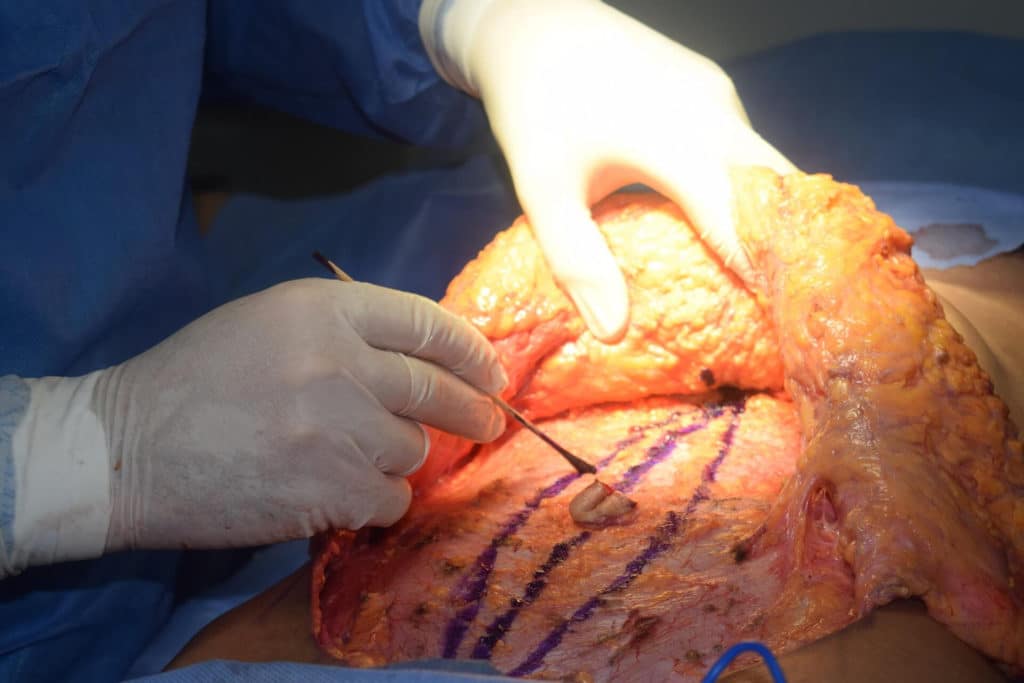 Mini Tummy Tuck
The mini tummy tuck focuses on the area under the belly button. It's perfect for people with a stubborn below-the-navel paunch and minor sagging skin in this area.
Because the mini tuck has a smaller target, a smaller incision is used. Placed above the pubic bone it, too, is made where it will be covered by underwear. Liposuction can be added to remove excess fat from between the muscle and skin layer.
Fleur de Lis Tummy Tuck
Following massive weight loss, an extreme amount of excess skin can remain; too much to be removed with a traditional tummy tuck. Fleur de Lis surgery offers an option for people with this problem.
The horizontal incision is placed in the same position as during traditional abdominoplasty. However, a vertical incision is also made along the middle of the abdomen. This gives the surgeon additional access. Whereas the traditional route smoothes from top to bottom, a Fleur de Lis tummy tuck also tightens from outside to inside.
While the risks are somewhat higher because this surgery is more invasive, the outcome is staggering. For people with extreme amounts of saggy excessive skin, the results are life-transforming.
Circumferential Body Lift
When we think about a tummy tuck, a svelte abdomen springs to mind. But what about when saggy skin affects the butt, belt-line and love handles?
As the name suggests, the circumferential body lift might be the perfect answer. Yes, it goes all the way around the body. Just like a belt. One incision extends from the midline of the back on one side, just above the gluteal cleft, until it reconnects. This provides its unpleasant nickname: ring barking.
If the abdominal muscles need to be repaired, this is done. Then, because the skin of the upper and lower body has been separated, each end can be trimmed, contoured and sewn back together. This flattens the tummy, smoothes the love handles and raises the buttocks.
The before and after photos of circumferential abdominoplasty can be hard to believe. The 360-degree change is so massive the pictures could be mistaken for two different people!
Tips: Recovery For Tummy Tuck Surgery
Like any surgery, understanding the process will ease worry and guide your actions. Because tummy tuck surgery varies, it's important to follow your surgeon's advice carefully. With that said there are some general rules to aid your recovery.
When you get home, rest and move as recommended. You will be shown how to care for the incisions and any drainage tubes; follow this advice. If possible, have someone available to assist you. Driving, lifting, and exercise need to be put on hold. Extended periods of bending, lifting or standing can be difficult so these are best avoided initially.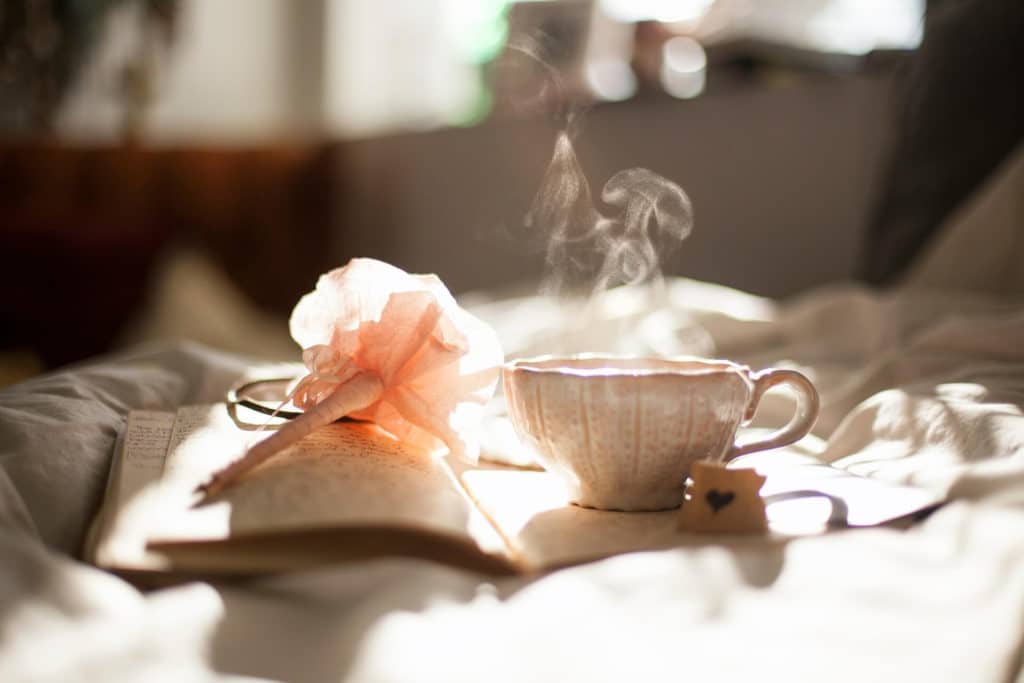 The Right Tummy Tuck Compression Garments Ease Pain and Speed Healing
Abdominoplasty uses large incisions. Tissues are moved, contoured and stitched with resulting swelling and bruising. This is entirely normal. It's why tummy tuck compression garments are recommended. The medical support and pressure make recovery comfortable, safer and complete. It encourages skin retraction, protects incision wounds from infection and speeds up post-surgical recovery time.
The compression garment you need depends, in part, on the abdominoplasty procedure that is performed. Bodysuits and binders are popular choices. For most people, healing will take around six to eight weeks and compression will provide support through this time. Longer may be needed.
One study published in the Indian Journal of Plastic Surgery recommended that people who have known skin laxity, "… Would need to wear the compression garment for a longer period, beyond the usual 6 weeks up to 8-12 weeks to encourage/allow the maximum possible skin retraction to take place."
Our Three Most Popular Bodysuits Are…
Evidence-based tummy tuck compression garments will be your best friend during the healing process. Let's take a look at our three most popular products…
BodyAid Boy Leg Bodysuit
With no bottom compression, contoured panels and adjustable straps, our boy leg bodysuit is ideal for a mini, traditional or Fleur de Lis tummy tuck. Comfortable, with the perfect amount of pressure, it will allow you to achieve the best results from your surgery. Find out more about the BodyAid Boy Leg Bodysuit here.
BodyAid Tummy Trainer Bodysuit
With targeted compression and support for the abdomen, torso and upper legs, this bodysuit provides healing comfort exactly where it's needed. Learn more about the BodyAid Tummy Trainer Bodysuit now.
Bodyment Full Body Shaper Bundle
It's common to choose multiple plastic surgery procedures. When a woman has a tummy tuck revision after pregnancy, she may also have her breasts augmented. For this combination, known as a Mummy Makeover, this compression garment is ideal. It provides support and compression for the breasts, torso, and upper legs. Discover why women love the Bodyment Full Body Shaper Bundle.
The Benefits of Abdominal Binders
While a bodysuit covers the bottom and the thighs, an abdominal binder after tummy tuck surgery provides pressure around the core only. Abdominal binders after tummy tuck surgery often have a simple velcro closure so you can control the amount of compression. Need yours a bit tighter? Simply undo, pull, and refasten!
The Marena Unisex Abdominal Binder is our bestseller. This surgical-grade stage 1 compression abdominal binder:
– Improves blood circulation
– Reduces soreness
– Aids post-op recovery
Constructed from a high-performance long-lasting fabric, it retains its shape and compression even after extended wear. The anti-microbial material prevents bacterial growth that can cause odour, skin irritation, mildew and fabric degradation. It is super easy to use and provides the targeted abdominal and lower back support and compression that many of our clients adore.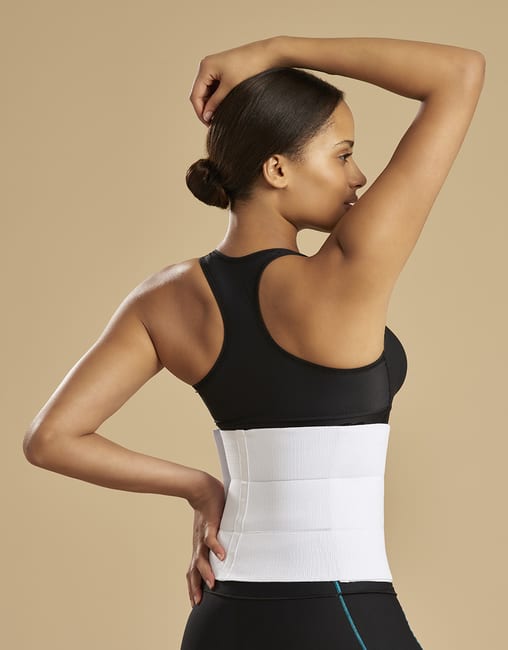 How to Minimise Tummy Tuck Scars
One key reason many choose to have abdominoplasty is the profound shift in self-esteem and happiness it can bring. It can be literally and beautifully life-changing. So it makes sense to minimise scarring.
While the pressure of a bodysuit or abdominal binder after tummy tuck surgery is crucial, there is more you can do. Postoperative scar management is essential. Thanks to BodySil Tape and BodySil Gel it's also easy.
BodySil Scar Tape is a clinically tested silicone treatment proven to accelerate fading, reduce redness and flatten raised scars. As soon as the wound heals, begin using. If you are prone to keloid or hypertrophic scarring, this tape is a game-changer.
BodySil Gel is scientifically recommended as the first-line scar treatment. Clinically proven to rehydrate and lighten the skin, decrease itchiness, breakdown excess collagen and reduce a scar's size, it can be rubbed on as soon as the wound heals. Topical application two to three times each day provides the best result.
Whether considering a tummy tuck after weight loss, tummy tuck revision after pregnancy, or for another reason, the results we've seen are incredible. The vast majority of abdominoplasty procedures are transformative. With the right surgeon, medical-grade tummy tuck compression garments and evidence-based products that minimise tummy tuck scars, it's possible to love the body you live in.
What cover is included with Medicare tummy tuck surgery?
Medical tummy tuck surgery cover is an often asked question as medicare may indeed cover tummy tuck surgery depending on the necessity of your procedure.

If you are having a tummy tuck procedure for cosmetic reasons, medicare will not cover any costs involved. Whereas if you require a tummy tuck or abdominal liposuction for medical reasons such as excessive weight loss, muscle repair or other serious health complications you may indeed receive some financial rebate from Medicare.

If you are covered with a private health insurer, the same will apply depending on your plan. But your medical garments will most probably be covered even if it is a cosmetic procedure.