8
minutes read
Marena is internationally recognized as an award-winning medical garment manufacturer. Distributing to almost 80 countries, their recovery range has helped thousands of people through their post-op journey.
Discover how you too can improve your post-op journey by browsing Bodyment's top-selling Marena medical post-op compression garments below!
Through decades of research and development, Marena garments are made with unmatched durability and support. Committed to your comfort, Marena thoroughly tests all their products to ensure a perfect fit.
By working with medical professionals and researchers, Marena strives to become the global leaders of compression wear. Even partnering with the likes of NASA, Marena prides itself on cutting-edge science.
Bodyment is a proud partner of the Marena and wishes to support your post-op needs. Our online fitting consultants have assisted countless clients with finding their perfect sizing. Selecting the correct product ensures you achieve the best results from your procedure.
Depending on your private health insurance, you can even receive up to a 100% rebate on our Marena garments. So, find out whether you're eligible by clicking here!
To see which Marena garments are essential for your post-op journey, have a browse at our top-selling range below.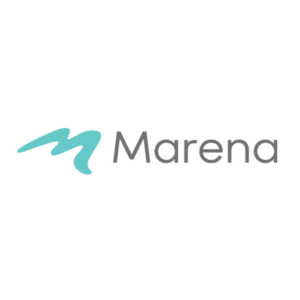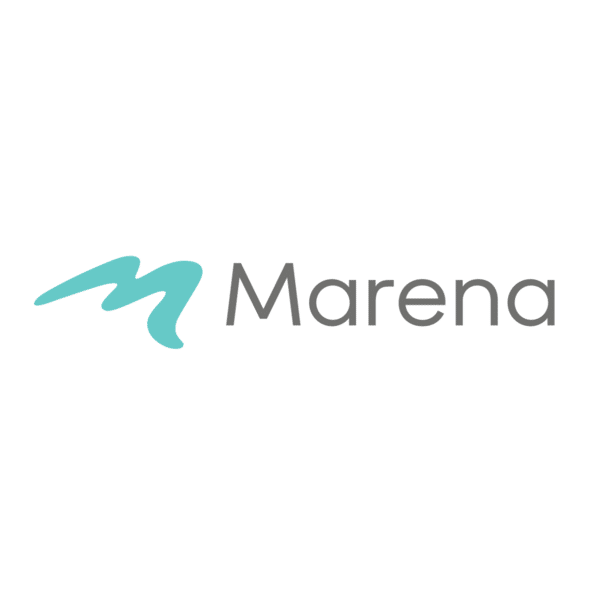 Benefits of Marena Medical Garments
All Marena medical garments have been developed to support post-op recovery and contour around your body. Designed to cater for all 3 post-surgical stages, Marena offers a fit for any size or situation.
Acknowledged as one of the best in the compression garment industry, Marena makes all their garments with exceptional craftsmanship and innovation, including:
Patented fabric technology to ensure an even and consistent compression experience.

Extra stretchy material that lengthens by up to 250%!

Anti-microbial properties which help eliminate germs, infections and body odor.

Anti-heat technology – Specialized cooling fabric to keep you well ventilated during exercise or even hot weather.
Our Best-Selling Marena Compression Garments
As the industry-leader of medical-grade compression garments, Marena has quickly become one of Bodyment's best sellers. With its countless benefits, our fitters consistently recommend Marena garments to our loyal customers.
Whether you've had a tummy tuck or even a facelift surgery, there will be an appropriate post-op garment for you. Discover the best model and fit on our top-selling list below.
Post-Op Bras
The Marena FlexiFit™ Low Coverage Bra and FlexiFit™ Original Post-Operation Bra are specifically designed for your Stage 1 Medical Post-Op recovery. These post-op bras are suitable for almost any breast procedure, including implants and reductions.
By providing optimal compression, these surgical bras help reduce swelling and discomfort. Featuring a front fastening 3-row eye-and-hook closure, both bras offer maximal support and convenience.
If you're looking for a more supportive post-op bra, the FlexiFit™ Original offers a premium fit by extending lower towards the waist. On the other hand, the FlexiFit™ Low Coverage Bra's detachable strap design and high waist fit provide further adjustability.
Choosing the perfect sized post-surgical bra is crucial for your post-operative journey. Discover how you can find the right fit with our complete "Post-Operative Bra Sizing Guide." Alternatively, you can ask our fantastic support staff located on the bottom right corner of your screen!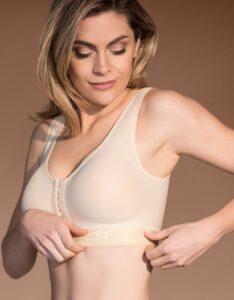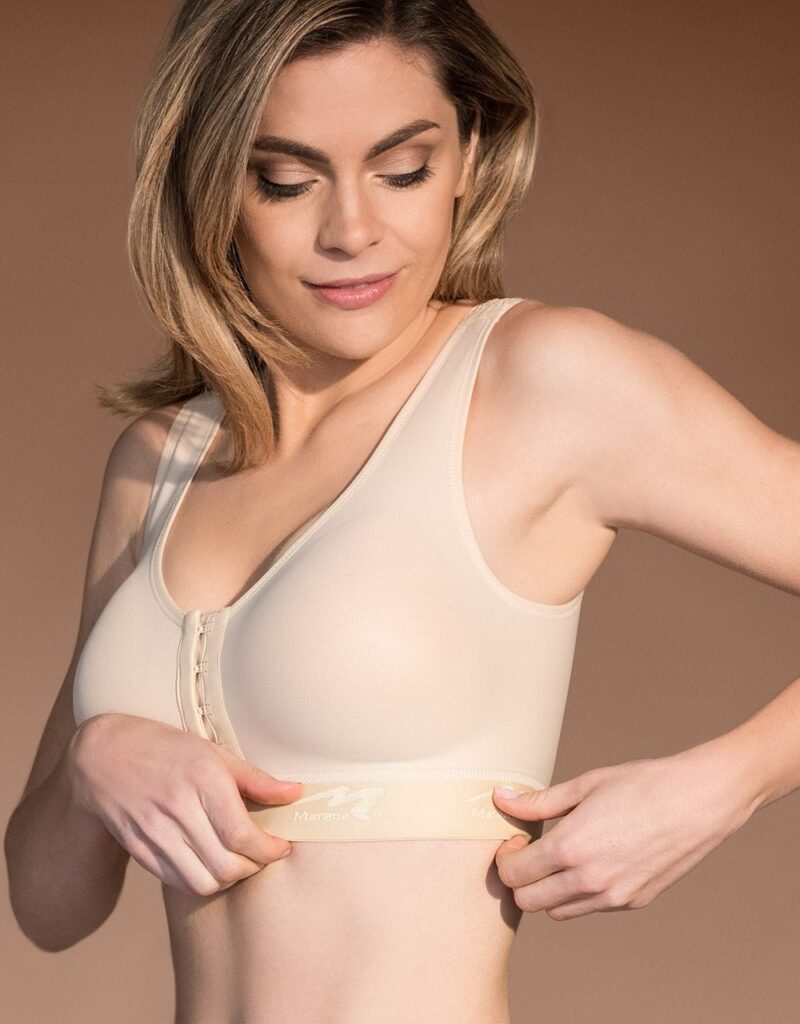 Bodysuits
Currently, Marena Bodysuit range is the most comprehensive compression garment design. By contouring around the entire abdomen, back and hips, you'll experience maximal comfort and reduced swelling around the body.
The Marena Bodysuit Above Knee with Suspenders is an optimal fit for any undergoing multiple procedures, such as breast surgery, liposuction and even after pregnancy.
Fantastic features offered by this model include:
Open crotch and adjustable shoulder strap design

Latex-free

Breathable and lightweight

Made in the USA with high-quality fabric and craftsmanship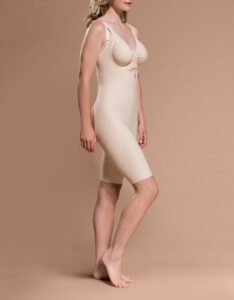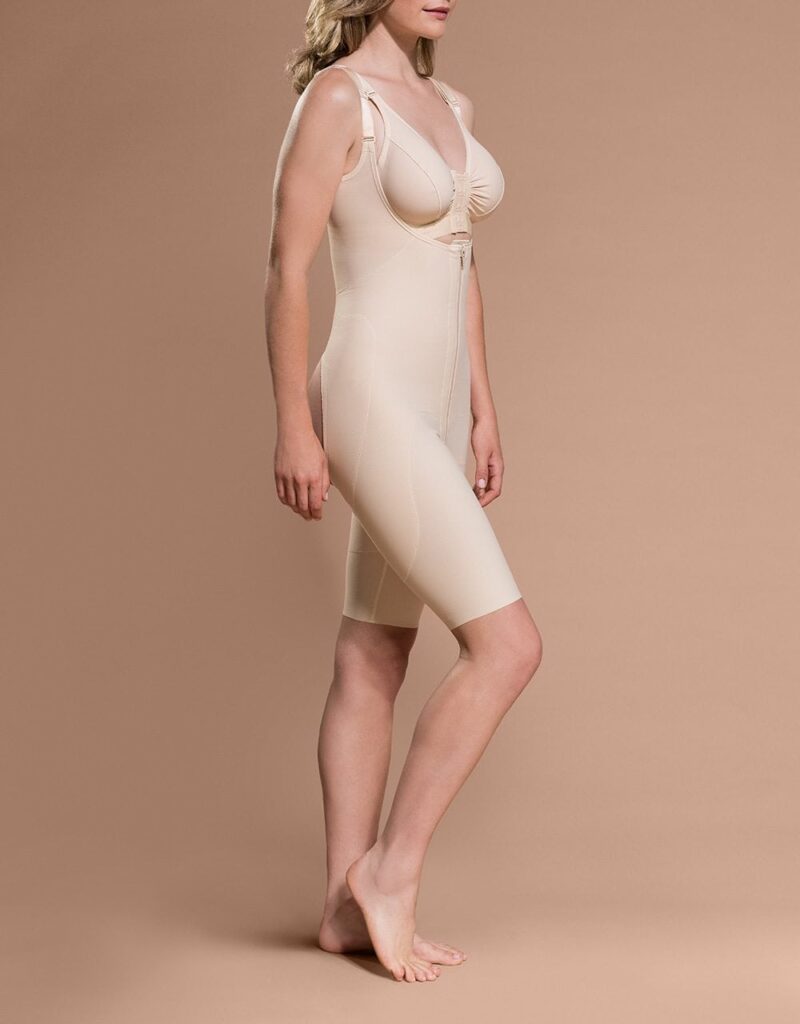 Abdominal Binders
The Marena Binders provides optimal compression over the entire stomach and lower back. These binders are ideally worn after any abdominal procedures, including hernia repairs and Caesareans.
Our unisex compression garments aid post-surgical recovery by reducing swelling and irritation along with the incision site. Made latex-free and high-performance fabric, the Marena binders are all adjustable with velcro straps.
Although each of our 3 best-selling binders provide maximal support, each model has unique features dependent on your body type.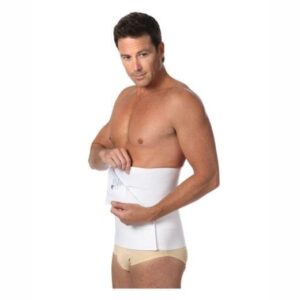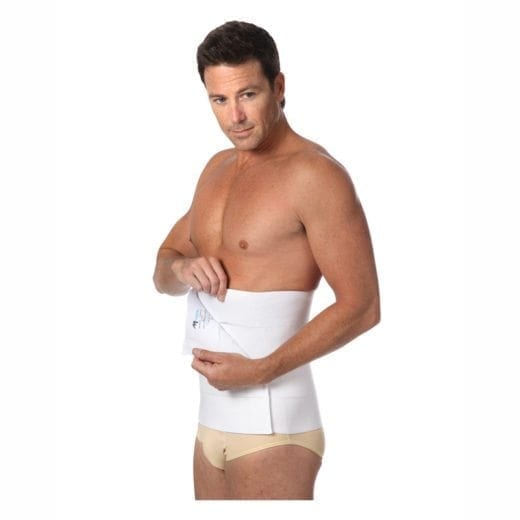 Compression Vests
The Marena Short Male Compression Vest has been developed to ease swelling and boost blood circulation around the body. Specifically, our recovery vests should worn post-operatively after any gynecomastia surgery.
Not only is it wearable under clothing, but also highly adjustable with both zips and hook-and-eye front closure.
Features in these compression vests include:
Skin smoothening properties

Elastic bands for an ideal fit

Breathable and lightweight materials

Made in the USA with high-quality fabric and craftsmanship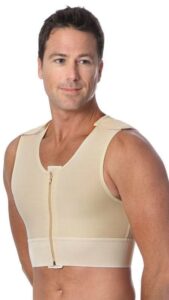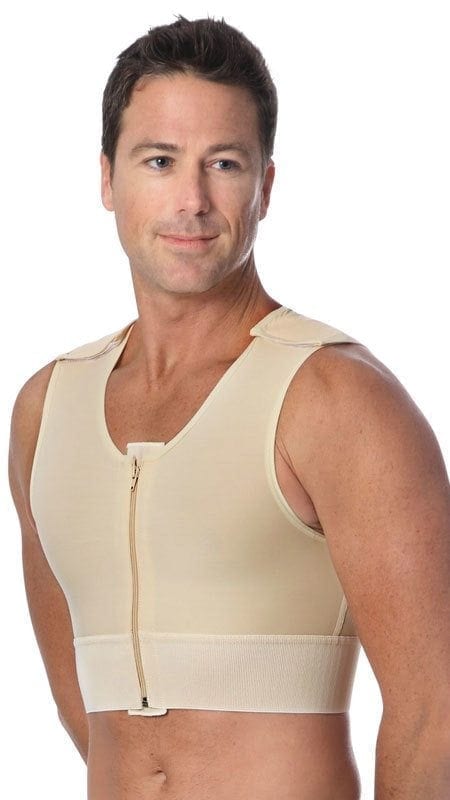 Face Masks
Facial procedures, such as facelifts and dental implants can also lead to irritation and swelling. Marena Face Masks uses compression technology to reduce swelling through the head, face and jaw.
Made as a one-size-fits-all, unisex and velcro-enclosed compression garment, these face masks can be worn by anyone in any situation. However, each of these models offers varying levels of support and adjustability.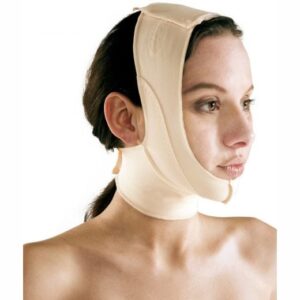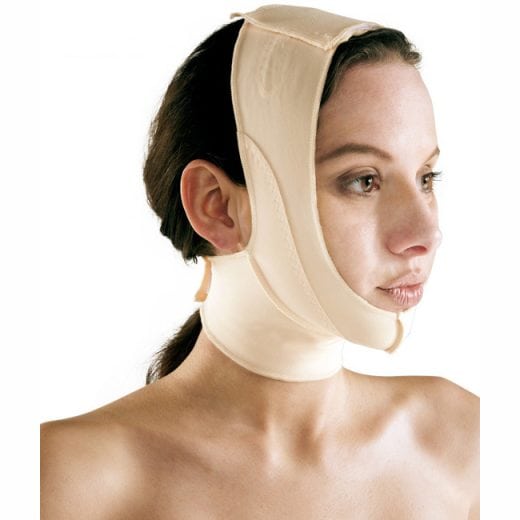 Compression Leggings
The Marena Women's Active Leggings are one of our top-selling products. Suitable for both exercise and recovery, these leggings can be worn daily for any situation.
Swelling in the calves, hips, and thighs can be managed with the consistent compression from these legging. Treating everything from lymphedema to abdominal surgery, our compression garments permit premium support and comfort.
Some features that come with these compression leggings include:
Increased blood circulation through the legs

Breathable and lightweight materials

Made in the USA with high-quality craftsmanship and material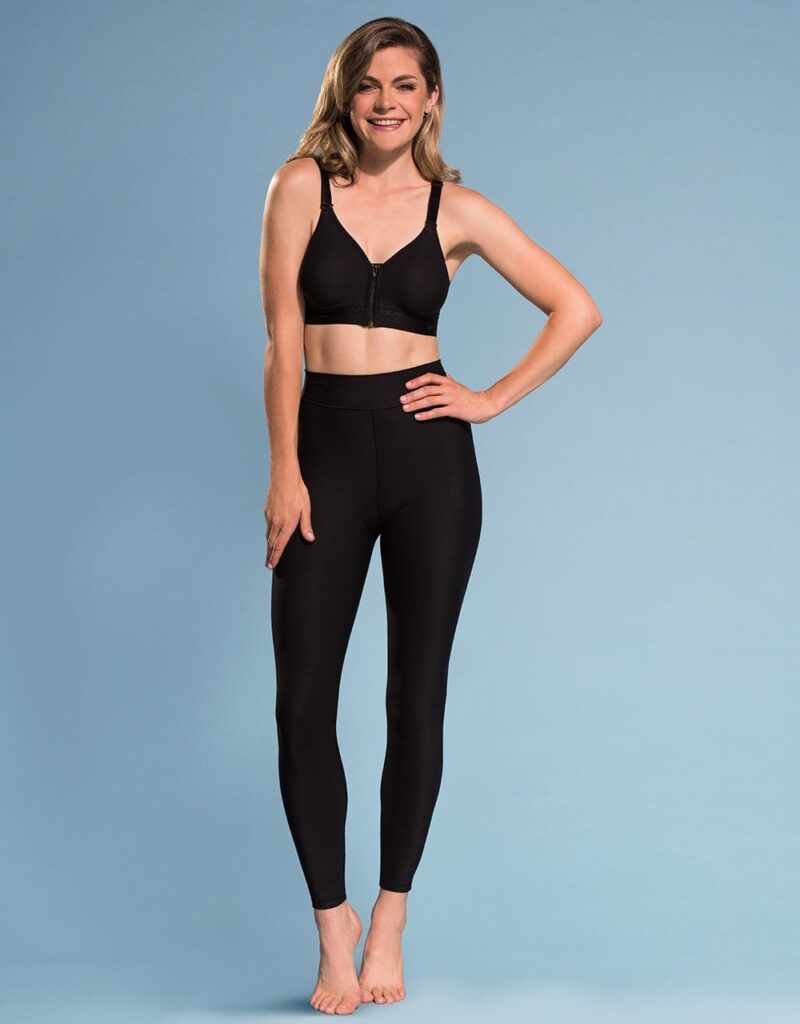 Men's Activewear
The Marena Active Compression Recovery Shorts are perfect for before and after hernia surgery. Designed with surgical-grade compression but a sporty feel, these Marena shorts can be worn in any situation.
Besides reducing swelling, Marena activewear enhances muscle function for everyday activities.
Features in these Marena medical garments include:
Latex-free

Clean-cut finish and chafe-free design

Made in the USA with high-quality fabric and craftsmanship

Breathable and lightweight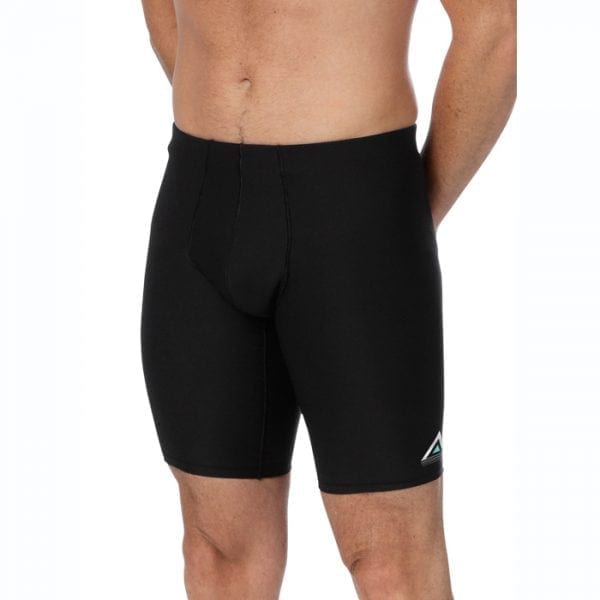 Where to Buy Marena Recovery Garments?
Marena Recovery Garments are readily supplied and shipped to your doorstep through Bodyment's online store. We offer a wide variety and premium range of Marena products to support everything from your post-surgical recovery to everyday activewear.
To help you decide the right medical garments for you, our Bodyment support specialists will assist you with any issues. Also, don't forget that you can claim up to 100% rebate on your purchases by checking your private insurance eligibility here.
Find out for yourself why our award-winning Marena products are constantly recommended by our customers.